Welcome, Character Creators
Welcome to the OC Database Wiki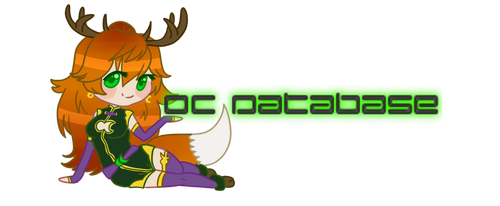 The encyclopedia of original and fan characters that any fan can join!
We currently are maintaining 166 articles and counting since July 25, 2016!
NOTE: Before writing a character article, please see:
OC Article Instructions
OC Wiki Rules · OC Article Standards
Recent changes · FAQ



REMEMBER: This wiki is all for original and fan characters. None of the articles featured here are representative of actual established characters or storylines, although some pages may include spoilers for real universes.
Featured Article: November 2017
---------- For more information, see Vendra ----------

Vendra is an original character designed by Datholmzie. Vendra resides in the Voltron universe.

Vendra is a human who grew up with no knowledge of her species or planet Earth. She was raised by a group of bandits/bounty hunters and lived a life of lawlessness. At age 17, she was captured by an alien race known as Goraqians and forced to fight in an arena for entertainment. She remained a prisoner for 3 years before being freed by two of the Voltron paladins, who then welcomed her into their ranks. She used this as an opportunity to reshape her life and atone for the wrongdoings of her past.
Here's some fake movies based on my characters. Just an excuse to cast some characters.

Read more >

This is a list of voice actors I would want voicing all of my characters on the wiki. This list is a work in progress.

Character Voice Actor

Arthur Win…

Read more >

Making this blog for User:LeeHatake93. This future handheld console idea is actually his; I'm just making a blog for it.

The LegendGames Prism, formerl…

Read more >
Click Here to make an account. It's a free, quick and easy way to keep track of your edits and it helps you become a better part of the community!
With an account you can:
And Much More!
Featured Poll: November 2017
What are you most thankful for this year?